Charming Demon with White Mesh Contacts
  @pedroglamup shared his Halloween make-up in the latest post, we can see a beautiful demon with bronze skin and horn.
  As an inspiring and creative artist, Pedro self-made the horn, which has the color of wood, but harder than iron, standing upright to the sky, announcing its whole power to everyone. The demon with horn is one of Pedro's classical make-up, it's such a beautiful creature with blonde hair, tattoo-like paint on its face, strange but exotic. There is no need to say that it's a definitely dangerous creature, but the sparkling germs on its face seems too charming that it won't be a sin to be seduced by.
  But what makes the make-up more perfect is the WhereColour Best White Mesh Contacts he used. This special mesh style is the perfect middle-ground between blind effect lenses and other garish cosplay contacts, you can still see some pale light with them on. These contact lenses are light, soft and comfortable to wear. These high quality contact lenses are perfect choice for any scary designs and freaky costume. And Pedro used WhereColour Best White Mesh Contacts, and found his own fantastic creature.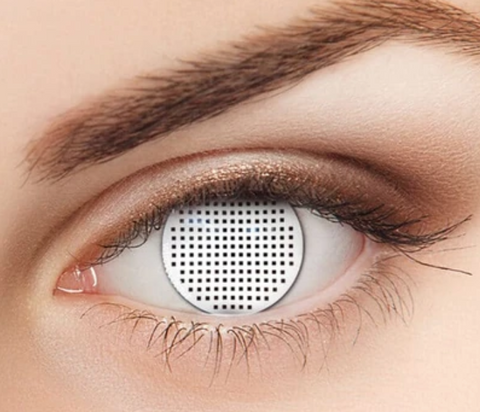 If you have any other brilliant make-up idea with WhereColour, TAG us and show your favorite look on Instagram, and your pic will be shown on our socials!!