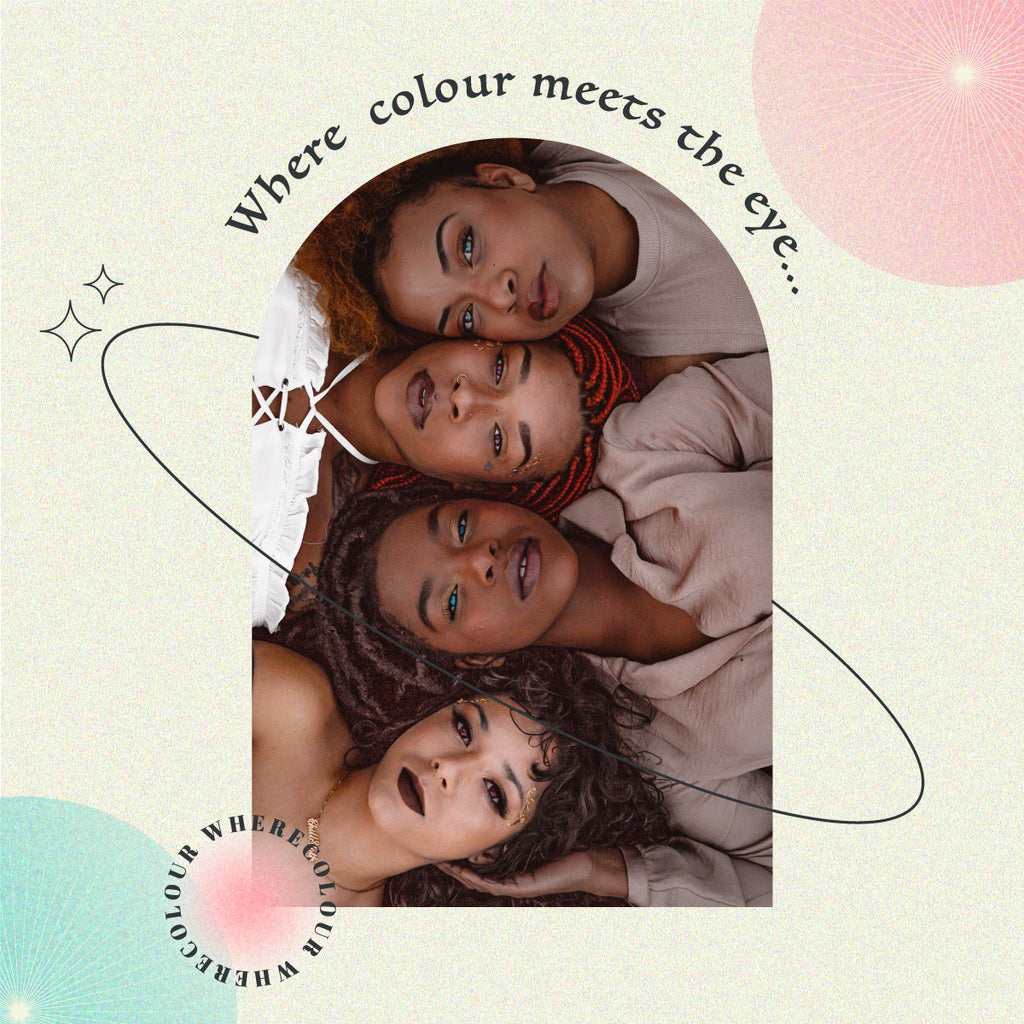 WhereColour: Where Colour Meets The Eye. Colored contact lenses (sometimes called "fashion," "costume," or "decorative" contact lenses) are the new cosmetics. History says colored contacts for occasions, we say colored contacts for every day. Minus the traditional markups, with new, colorful contacts every week. So forget occasions. Here's to WhereColour colored contact lens for you.
We launch WhereColour to disrupt the overpriced and outdated models of the colored contact lens industry. Empowered by the people through crowdfunding, our original contact lens line sets us apart by bringing you quality, creative designs at radically fair prices.
We're inspired by the go-getters, the innovators, the dreamers; and our designs embody this very spirit. They're built for adventuring, creating, and daring to disrupt the norm.
Above all else, we create with the dream of enlivening our ultimate mission: to inspire you to live life on your own terms.
OUR PRODUCTS
We deliver premium on-trend colored contact lens and accessories. We're so confident you'll love what we do that we offer a one-year guarantee on everything we make.
High Safety with CE Mark and FDA Approval
To ensure your health and safety, all of our colored contact lens are European CE marked and certified by the United States' Food and Drug Administration (FDA), in accordance with international qualitative medical standards.
Top-notch Sandwich Painting Technology
In order to guarantee your health and safety with our best efforts, we adopt top-notch sandwich painting technology for WhereColour contact lenses, putting the pigmented layer embed between the two layer of lenses so that your eyes don't touch the middle lay directly.
Smooth Edge and Surface Design with High-Quality Materials
Super soft and smooth edge of all WhereColour colored contact lenses is designed to have a natural and fresh feeling without any sensation of foreign body. The smooth surface of our colored contacts, without any pressure for ocular surface nor cornea, makes you feel super comfortable even with daily wear of these colored contact lenses. High-quality materials effectively against protein stains make contact lenses soft and comfortable to wear. Less friction and more comfort! You can literally wear these all day, every day and forget they're even on your eyes.
High Oxygen Transmission and Extreme Moisture
High oxygen transmission creates a moisture cushion on the eye by increasing the water content near the lens surface which helps to maintain the moisture of your eyes at a high level. So comfortable you can scarcely feel these thin lenses when you wear them.
OUR MISSION
We were founded on the belief that colored contact lens shouldn't break the bank. Our goal is to change the way you think about colored contact lens by delivering premium designs at radically fair prices.
DIRECT TO CONSUMER
Major brands in our industry markup their products 8-10x the actual cost. We do things differently. We free ourselves from middlemen and sell directly to you, so, we can provide colored contact lens at a fraction of the price. Same materials, same quality, same manufacturers; just more accessible than traditional contact lens companies. Because colored contact lens shouldn't kill your going out budget.
Contact us by emails at:
Brand ambassador: social@wherecolour.com
Customer Service: support@wherecolour.com