Awesome Dragon Ball Cosplay by Miel Sánchez
WhereColour Meet the Eyes, Colored Contacts for Every Day.
No one doesn't love Dragon Ball, we all went crazy with the adventures of the Super Saiyans and their friends. If you plan to get yourself a jaw-dropping Dragon Ball cosplay costume since there will be dozens of amazing cosplay events coming after Halloween, we present you the awesome Dragon Ball cosplay by Miel Sánchez with WhereColour cosplay colored contacts, and may you get some inspiration and start planning your greatest cosplay yet!
As one of the most popular villains in Dragon Ball, Cell has three different forms, and Miel picked the final as well as the perfect form as the cosplay costume. We can see Miel vividly recreate this artificial life form, green skin with spots, besides this, Miel's Cell also carries the signature of her unique makeup. We can see a young Gohan in his Super Saiyan form.
The colored contacts Miel pick to finish the costume is WhereColour Fairy Sunset Glow Purple Contacts. The brilliant coloration of these natural contacts can change the color of your eyes into a subtle sunset glow and enlighten them in a natural way, and make Miel's Cell look cool and indifferent.
King Kai is the king of the North Area of Universe 7. He is Goku's martial arts teacher and mentor. Miel successfully made herself as this humorous character with blue skin, pointed ears. Teashade sunglasses are King Kai's essential accessory, but Miel didn't use them to cover the eyes, but wear WhereColour Little Blue Contacts which are one of her favorite choice as cosplay contacts.
These blue contacts meet her characteristic makeup style perfectly, not only adding charms to the costume, but also feeling of terrifying, gentle and mysterious. 
Majin Buu is the strongest villain in the Dragon Ball series. The whole body of Buu is pink, while the upper body is half naked. Buu has many forms, and each form has a different personality and goals, essentially making them separate individuals. This is Kid Buu, the original and pure form, unlike his other forms, this form of Buu's thought process is seen to be irrational and spontaneous.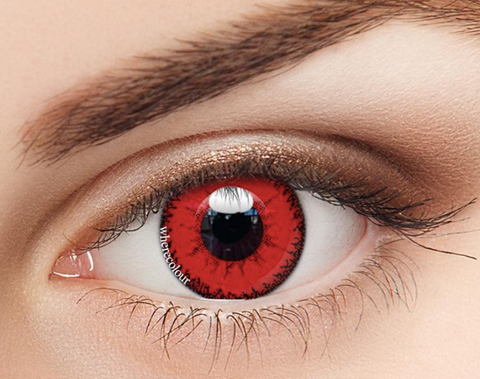 WhereColour Scary Red Demon Contacts are the perfect colored contacts by fully reflecting the bloodlessness of this malevolent character, making the costume the focus of the attention, a cut above the rest.
We firmly believe that the small details can determine your cosplay costume and make it stand out leagues above the rest. With this in mind, why would not take a view at WhereColour cosplay contacts options to complete your Dragon Ball costume with inspirations from Miel, and don't forget to TAG US on Instagram to show your work!!